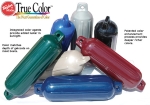 Click for larger image
Taylor Made Products


STORM GARD™ FENDERS Taylor Made Products introduces the latest in fender color technology. Introducing Storm Gard™ Fenders colors to our inflatable vinyl fenders. These fenders are in a class of their own, and feature all the same great qualities and Life Time Guarantee as our standard Hull Gard®, Super Gard™ and Big B™ fenders. Please click on link for Fender Hardware. Made in USA.
Integrated Color Agents Provide Added Luster in Sunlight
Patented Color Enhancement Process Provides Deeper Richer Colors
Color Matches Depth of Gelcoats on Most Boats
Rubber Football Needle Valve for Easy Inflation and Long Life
Valve Seats are Integrally Molded into the Fender, Not Glued in Like the Competition
Reinforced molded-In Eyelets
Guaranteed for the Life of Your Boat Against Splitting or Bursting! See warranty page for full terms of warranty
The most accurate way to select the right fender for your boat is to survey your docking area to find out what fender is in use for the same size and weight of boat, in terms of fender dimensions and quantities, and use that as a guideline.









Available in the above colors (in order): White, Mid Atlantic Blue, Burgundy, Black Onyx, Silver Mist, Emerald Green, Aurora Gold, Captain's Navy