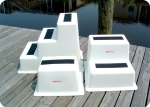 Click for larger image
Taylor Made Products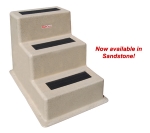 STEPSAFE™ DOCK STEPS BY TAYLOR MADE PRODUCTS Molded in durable U.V. resistant Polyethylene, Taylor Made Products Stepsafe™ Dock Steps are offered in three different tread step models. On the top of each step, Taylor Made Products' own StepSafe™ Non-Slip Adhesive Pad is adhered for additional slip protection while boarding. 1 1/2" wide flange provides adequate mounting surface for docks. Cleans easily with soap and water. Additional hand rails are available for two-step and three-step models. Sold separately. Available in White and Sandstone color. For more information please see Installation Instructions and Warranty Information. Made in USA.
NOTE: Due to the volume size of the Stepsafe™ Dock Steps, FREE SHIPPING OVER $100 does NOT apply. Please contact SailboatStuff at 1-770-776-9962 or email SailboatStuff for shipping quote.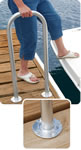 Click for larger image
Taylor Made Products
STEPSAFE™ DOCK HAND RAIL BY TAYLOR MADE PRODUCTS The Stepsafe™ Dock Hand Rail can be mounted to any dock to aid in boarding or leaving your boat. Fabricated in rust-proof extruded aluminum with a bright dip anodized finish. Features an etched top surface to ensure a solid grip. Large solid mounting plates are drilled for 1/2" bolts. Sized to perfectly fit 6" wide dock boards.


Taylor Made Products
STEPSAFE™ NON-SLIP ADHESIVE PAD BY TAYLOR MADE PRODUCTS Taylor Made Products StepSafe™ Non-Slip Adhesive Pads will retain its grip wet or dry, and is resistant to gas, oil, and UV rays. Taylor Made Products combined ToughTek™ with a soft padded feature for a safe, secure climb aboard. Also great for the pool area, aluminum ladders, or any surface where slipping is a concern. Comes with a pressure sensitive backing for easy installation, and trims easily with scissors to almost any size or shape. Use on gunnels, swim platforms, stair rungs, transoms, or anywhere you step and could slip! Made in USA.