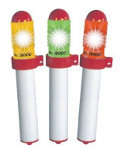 Click for larger image
Jim Buoy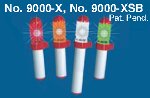 9000-X and 9000-XSB LED BUOY LIGHTS BY JIM BUOY Jim Buoy's LED 9000-X Flashing Buoy Lights are available in two versions that flash either 30 or 60 times per minute, and last up to one year without a battery change. The LED9000-XSB Buoy Lights maintains a steady burn for up to 1-1/2 months of continuous battery use. Heavy-duty construction impervious to the most severe weather conditions and salt water corrosion requiring little or no maintenance under normal use. Utilizes an almost indestructible polycarbonate lens which is completely watertight and submersible. Lights Available for Buoys and Floats - Most Jim Buoy's Channel Markers, River/Mooring Buoys and Rope Floats may be ordered with any of the No. 9000 Series Lights. Available in White, Amber, Green or Red lights.
Features of both Flashing and Continuous Lights:
Visibility Up to One (1) Mile
Electronically Shut Off During Daylight Hours and Automatically Turn On at Darkness
Powered by Three (3) Alkaline "D" Cell Batteries (not included)
Battery and Bulb Guaranteed for One (1) Full Year From Date of Purchase to Never Need Replacement
Complies with USCG Rule 88.15 for Dredge Pipeline Applications, USCG Rule 24 for Towing or Pushing and USCG Rule 22
Usage:
Commercial Fishing - Long-Liner's, Crab Pots, Lobster Traps, etc. See Float #9000-3 below.
Aquaculture Pond - Amber Preferred
Marine Industry / Boating - Buoys of Almost All Sizes and Types, Barrier Systems, Rope Floats etc.
Highway Maintenance & Safety - Street Barricades, Traffic Cones, Bridges and Overpasses. See Mounting Rack #9000-1 below.
Home, Farm & Auto - Roadway and Path Guide Lights, Garden Areas, Outbuildings, and Emergency, Flare/Signal Devices
Landing Strip Lights - Ideal for Private and Small Commercial Runways
Retrofit Information:
Channel Markers: For Regulatory Can Buoy (427-R) and River Can Buoy (427-River). A 4-1/2" diameter disk is included. With the light foamed in place, remove the old disk (3 screws). Replace with the new disk containing the light. All other Channel markers have a 4-3/8" diameter disk - specify disk size or Mode number and proceed as above.
Mooring Buoys: Drill a 1-5/8" diameter hole, 5" deep near top eye - mix and pour the urethane foam as instructed (included in the retrofit kit). Anchor at the bottom of the Mooring Buoy.


Click for larger image
Jim Buoy
BUOY LIGHT STAINLESS STEEL MOUNTING RACK BY JIM BUOY Stainless Steel Mounting Rack by Jim Buoy can be fitted to barricades and traffic cones. Illustration on left shows both Mounting Rack and Theft Deterrent Cable.


Click for larger image
Jim Buoy
LIGHTHOUSE BUOYS BY JIM BUOY A portable, miniature lighthouse on land or sea! Visible for up to one (1) mile utilizing the Jim Buoy No. 9000 Light series (see above). Fabricated with tough, vinyl coated foam float for use in water or may be secured on land. Extended Shaft, Ballasted, with float. Easy assembly. Available in 4', 6' or 12' lengths.