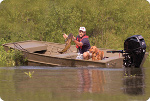 Click for larger image
Taylor Made Products

SQUARE BOW ALUMINUM BASS OUTBOARD TRAILERITE® HOT SHOT™ SEMI-CUSTOM BOAT COVERS BY TAYLOR MADE PRODUCTS Square Bow Aluminum Bass Outboard Trailerite® Hot Shot™ Semi-Custom Boat Covers by Taylor Made Products are designed to fit with similar hull styles. This means that the windshield pocket is in the average position for this range of boats (if applicable). All semi-custom covers include tie-downs and shock cord in hem for a custom fit against your hull. Made in USA.
For additional strap sets with a durable quick release buckle for the boat cover, please visit Quick-On Tie-Down Kits (sold in packages of 8; each strap set is eight feet (8') long).
Hot Shot™ Acrylic-coated Polyester Fabric Breathable, Lightweight, and Water, Mildew, and UV Resistant
Wide Bow
Folding Pedestal Seats
Steering Console Without Windscreen
Sewn-In Motor Hoods (Fits Up to 90 HP)
Fits Over Low Profile Trolling Motors
Crestliner, Lund, Alumacraft, and Starcraft Styles
Five (5) Year Limited Warranty See warranty page for full terms of warranty
IMPORTANT: To order the correct cover, you must know the center line length and beam width of your boat. Visit How to Measure Your Boat for more information.








Available in the above colors (in order): Pacific Blue, Hunter Green, Gray, Navy, Black, Teal, and Cranberry